The transparent ESG media reporting
Sustainability reporting can be so simple. And also as precise. Auditable down to the last detail for all carbon emissions and resources.
Avelon Building Cybernetics uses available data sources and enables its users to generate high quality ESG reports: Avelon ESG/M. Avelon ESG/M is the intelligence for audit-proof reports. It uses information from various sources, such as ERP, invoices, manual meter readings, digital readings and utility data. Avelon ESG/M checks the plausibility and lists all action points. Your teams and customers will be pleased: For the first time, the entire audit trail from the portfolio level to the consumption value is a complete success.
Real-time ESG calculations
Save massive amounts of time: Building Cybernetics calculates and aggregates large portfolios in seconds. Avelon ESG/M plausibilizes the raw data and converts them into CO2eq. If desired, it adjusts the values climatically and takes into account climate-independent heat references.
High-performer versus low-performer
Avelon ESG/M presents you the high performers and the low performers in your portfolio.
Clear Key Performance Indexes show where there is high optimization potential and how the portfolio is performing.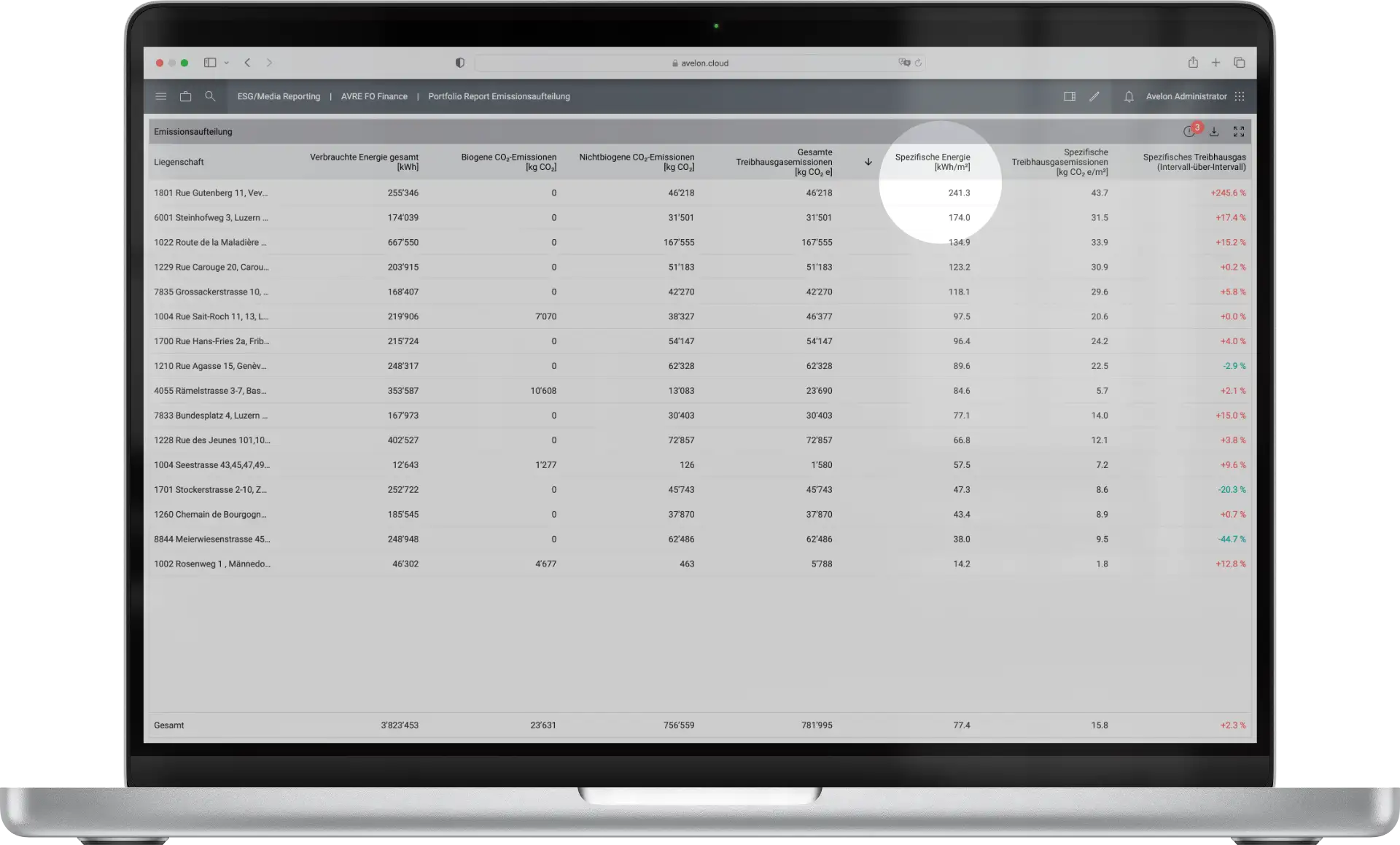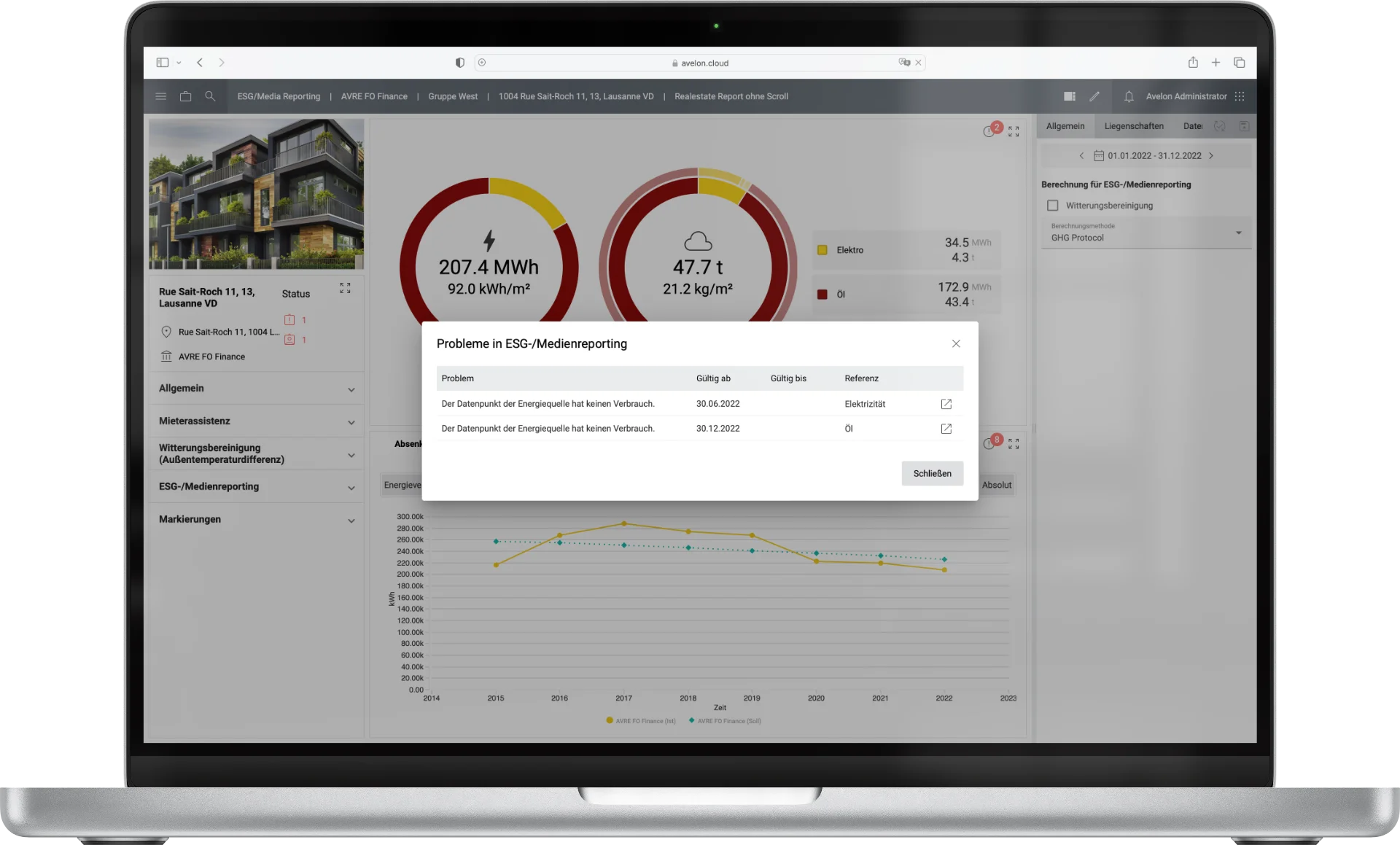 Avelon analysis reveals need for action
Which values are not correct? What still needs to be corrected in order to achieve reliable calculations?
Avelon ESG/M analyzes and checks measured values, climate factors and property information for you. The system provides you with a list of action points and enables you to achieve a resilient reporting.
Auditing has never been so transparent.
Open up new testing possibilities for your audit partner. Enable him to interactively trace and check the calculations from the portfolio level to the individual measurand online, as well as in detail.
Property data and emission factors under control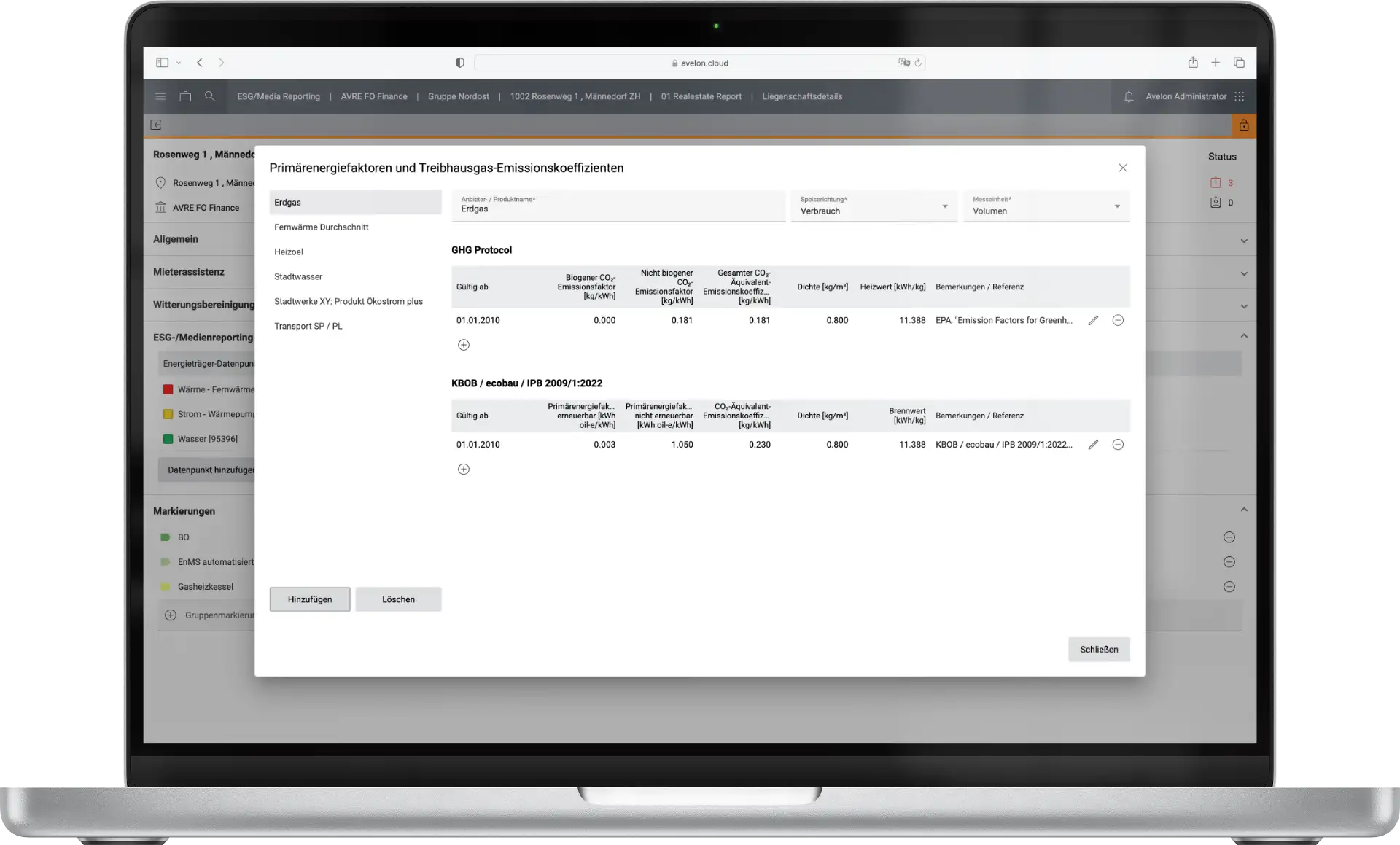 General and individual factors
With Avelon you manage general factors, as well as the individual factors of your suppliers.
Time management takes into account changing factors, as well as contract changes.
Media report and end energy
Avelon's reports show the references of all media for entire real estate portfolios. Avelon calculates the final energy for reporting and transparently shows if the trend is for the better.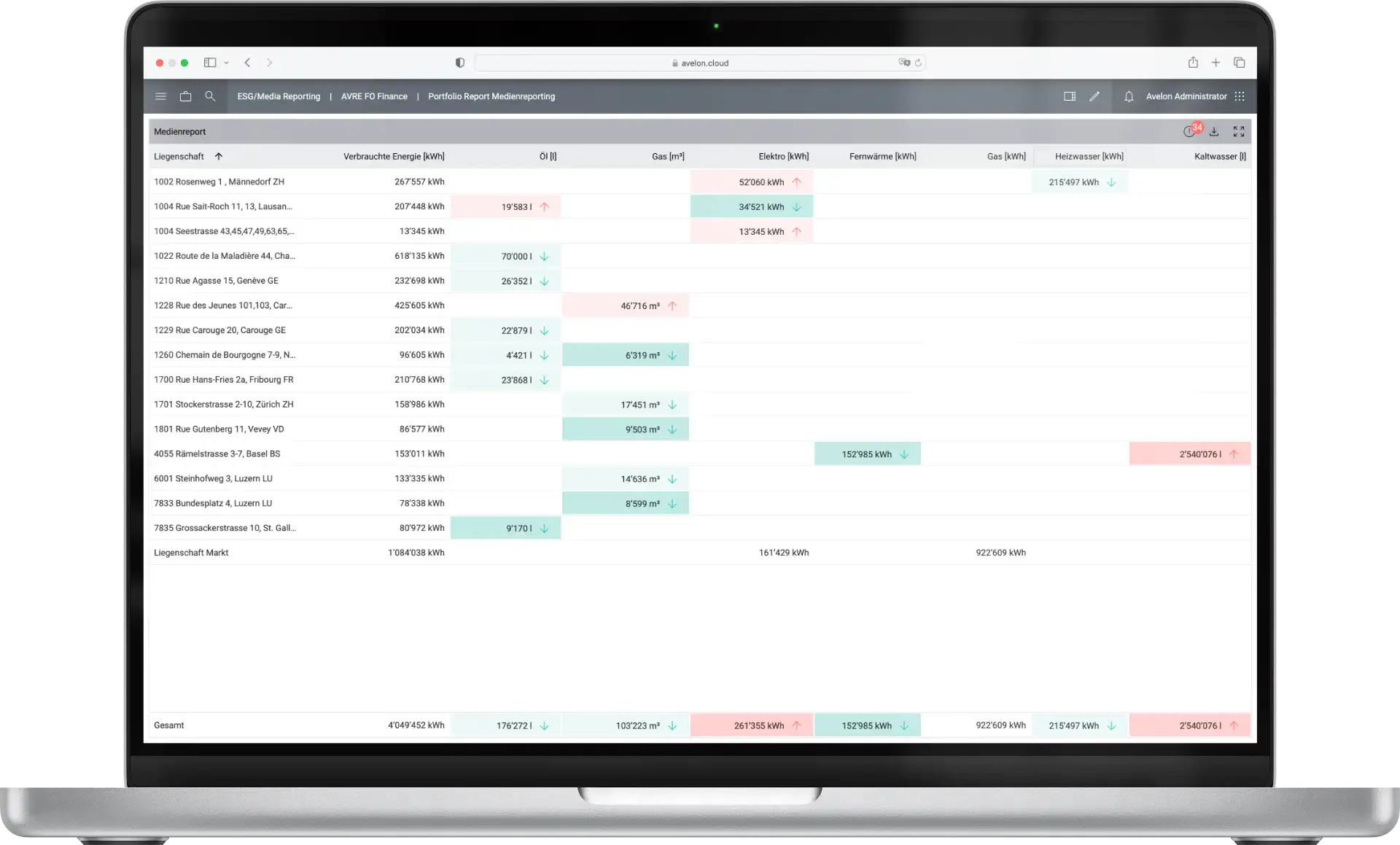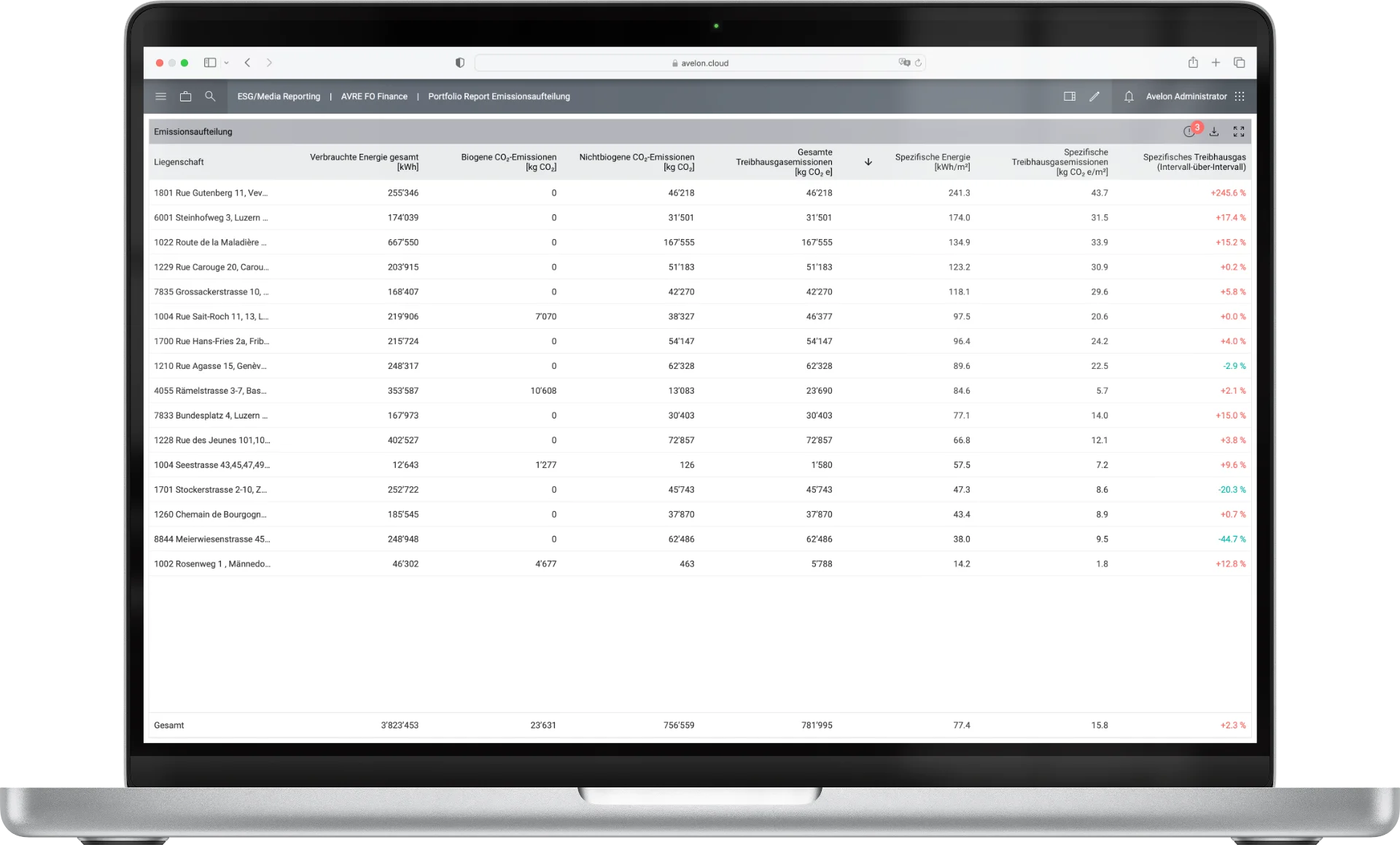 Avelon presents you with greenhouse gas emissions accurate to the property, building and meter.
See at a glance where your portfolio stands.
Individual evaluations with many degrees of freedom
Nothing beats having an overview of a large real estate portfolio. Avelon ESG/M gives you exactly what you need.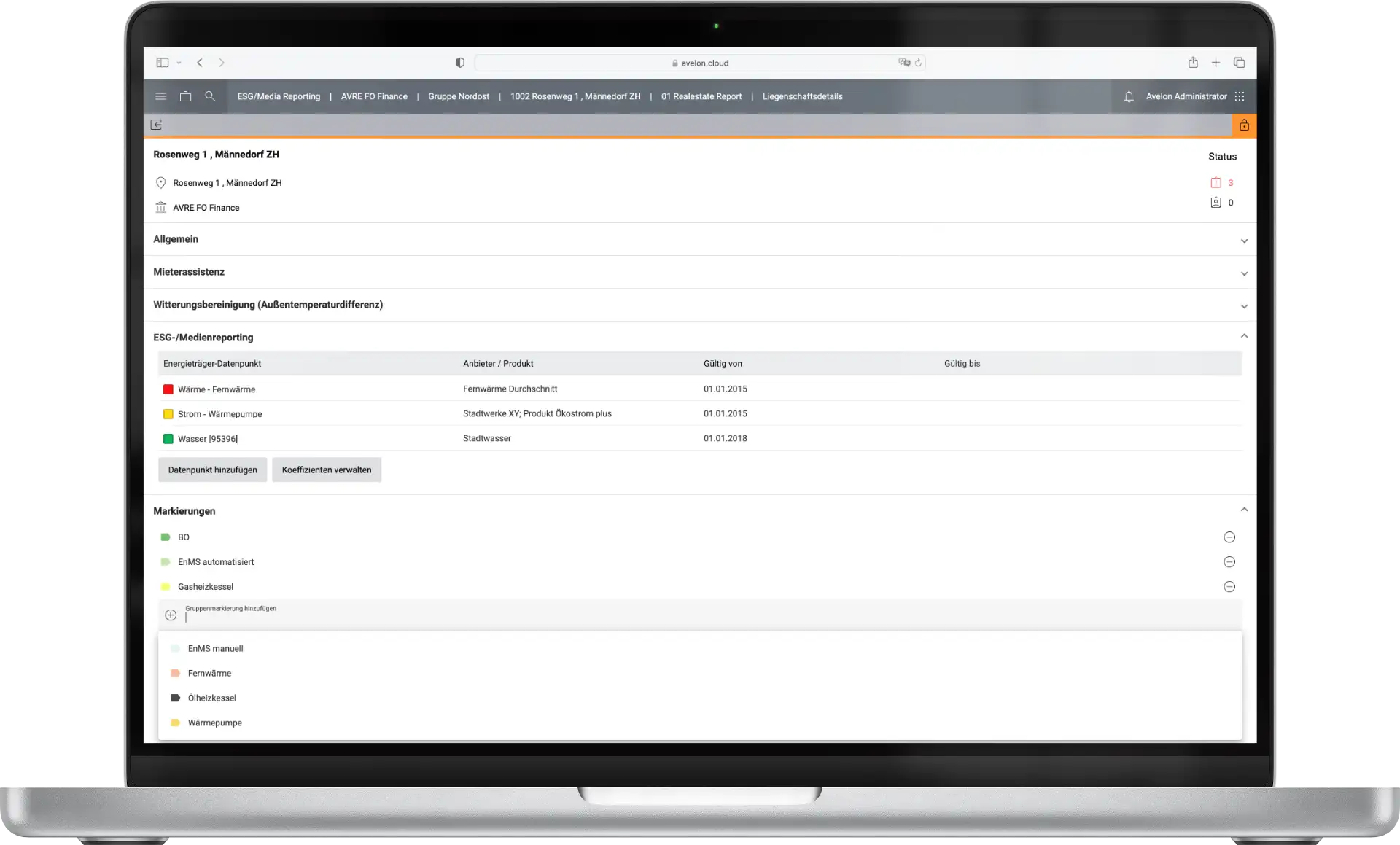 Freely definable indicators
Your portfolio and properties have their own logic according to which you group and arrange.
Avelon supports you with freely definable and assignable flags, according to which you can freely group and filter. Your calculations adapt dynamically.
Mastering the Flood of Measures
Operational Optimization (BO) creates solutions, but also shows investment potential.
Avelon presents you which measures have been proposed, budgeted, released, implemented and controlled.
Efficiently tap all data sources
The right technical integration for every property.
With a range of operational and technical options, Avelon makes data collection efficient and focused. The importance of a property or location determines the technical integration – not the other way around.
What else might interest you